BDO Development Capital Fund leads €6.35 million funding round in second generation family-owned foo
BDO Development Capital Fund leads €6.35 million funding round in second generation family-owned foo
Investment to drive doubling of turnover by 2022 through further international expansion, increased production capacity and new product development.
40 additional jobs to be created over 5 years with support from Department of Jobs, Enterprise and Innovation through Enterprise Ireland.
Investment is the sixth to date by the BDO Development Capital Fund and its first in a family-owned and managed company.
In its sixth investment to date, the BDO Development Capital Fund is leading a €6.35 million investment round in Broderick's, the family-owned and managed confectionery food company which was established in 1984. The €3.2 million investment in Broderick's by The BDO Development Capital Fund, along with Enterprise Ireland and bank funding, will drive further international growth by increasing production capacity thereby satisfying increasing demand for its products both internationally and domestically. The BDO Development Capital Fund provides development and growth capital for established, mid-sized and profitable Irish companies to assist them to achieve and accelerate their export-led growth plans.
Broderick's manufactures and sells a range of confectionery bars, treats and cakes under the "Broderick's", "The Irish Flapjack Company" and "Ina's Handmade Foods" brands to the retail and food service sectors. The company's product range includes options in the healthy, gluten-free and "indulgent" categories.
Broderick's is experiencing significant demand for the company's products driven by international consumer trends including:
a rise in "café culture" and demand for food "on the go";
a trend towards healthy and indulgent products; and
gluten-free becoming a mainstream food choice which requires gluten-free options wherever food is bought and/or consumed.
The €6.35 million investment will specifically enable Broderick's to:
expand production capacity to service increased demand for its products through the purchase of a 5,000 m² state-of-the-art manufacturing facility in Tallaght, Co. Dublin;
increase international sales and distribution and;
fund new product development and innovation.
Broderick's currently employs over 100 employees from its existing facilities in Walkinstown in Dublin 12. The company plans to increase its workforce to 140 employees by 2022.
Broderick's is in its second generation of family ownership and management, led by brothers Barry and Bernard Broderick. The company was originally founded by their mother, Ina Broderick, in 1984 when Ina started making and selling homemade cheesecakes to local coffee shops, hotels and foods stores. The company has grown significantly over the years to the point where Broderick's now supplies its retail and food service customers in c.25 international markets through Europe, the US, and the Middle East.
The project is supported by the Department of Jobs, Enterprise and Innovation through Enterprise Ireland's investment in the BDO Development Capital Fund.
Announcing the fund's investment in Broderick's, Investment Director of The BDO Development Capital Fund, Andrew Bourg, who has joined the Broderick's Board, said:
"Broderick's is a first for the Fund in terms of it being both a food company as well as a family owned venture both of which are focus areas for the Fund. It is one of many Irish family-run food companies that are export-focused with ambitious growth plans.
We are delighted to be partnering with Barry and Bernard to assist them achieve their exciting international expansion plans. Broderick's is a tangible example of an Irish family-run company applying continuous product development and innovation combined with modern management to achieve solid growth and international success.
Barry and Bernard have demonstrated real ambition in taking on external funding to assist them accelerate the growth opportunities. We look forward to assisting them achieve further international export-led growth."
Barry Broderick commented:
"We are extremely enthusiastic about what Broderick's can achieve with this investment and expansion. We have ambitious expansion plans and we are now positioned to implement them. We can also now tap into the expertise that comes with The BDO Development Capital Fund and the support of the Fund's advisory panel.
The BDO Development Capital team have a wealth of experience in supporting growing businesses such as ours and this, along with the international reach of their corporate partners, was a key factor for our family company choosing a funding partner.
Both Bernard and I would also like to acknowledge and thank Enterprise Ireland for their continuous support through our international development."
Enterprise Ireland CEO, Julie Sinnamon, commented:
"Companies in the food sector can make a significant impact to the Irish economy through expansion into international markets. Enterprise Ireland has worked closely with Broderick's over the past number of years, helping the company to develop their manufacturing capabilities and supporting them to innovate and expand into overseas markets with 40 new jobs created last year.
It is a great pleasure to announce this latest investment by Enterprise Ireland and the BDO Development Capital Fund which will progress the business's global ambition, resulting in a further 40 jobs here in Ireland. Enterprise Ireland will continue to work with the company as they continue to build their brand and scale in new markets."
Broderick's was advised by Baxterworld and Wallace, Corporate Counsel while Beauchamps acted for The BDO Development Capital Fund.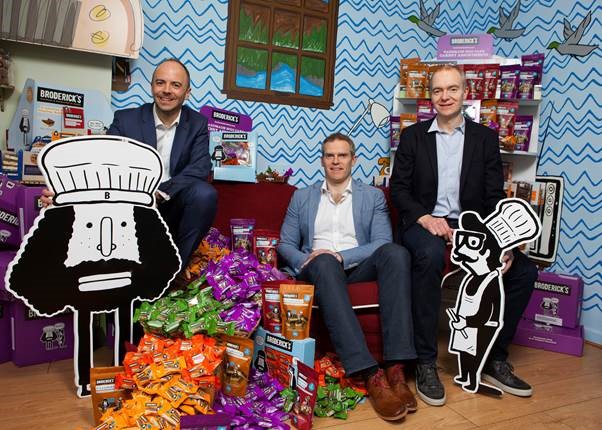 Andrew Bourg, Investment Director, Development Capital pictured with Bernard and Barry Broderick of Brodericks.
---