BDO Development Capital Fund Leads €6m Investment in the Obelisk Group
BDO Development Capital Fund Leads €6m Investment in the Obelisk Group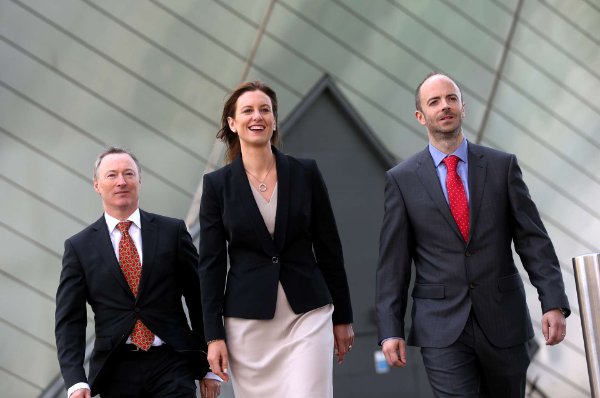 The BDO Development Capital Fund today announced a €3million investment in the Cavan-headquartered Obelisk Group, a specialist in service provision to the telecommunications and utilities sectors since 1996. The investment is backed by matching bank funding which together will drive the expansion in the telecommunications and power infrastructure sectors in both the UK and South Africa where the Obelisk Group is already well established.
The project is supported by the Department of Jobs through Enterprise Ireland.
The Obelisk Group was founded in Cavan in 1996 by two local entrepreneurs, Colm Murphy and Padraig Brady, to serve the newly emerging Irish mobile telecommunications market. Since then it has delivered approximately 40% of the sector's infrastructure. The company expanded into power infrastructure in 2008, followed by the UK in 2009 and South Africa in 2010. The Obelisk Group now comprises 250 highly trained and experienced engineers and generates annual revenues in excess of €20 million with export revenues currently accounting for 40% of the Group's revenues.
The BDO Development Capital Fund provides development and growth capital for established, mid-sized and profitable companies to assist them to achieve and accelerate their export-led growth plans. The combined €6 million investment will enable the Obelisk Group to take advantage of the investment in utilities in all three of the company's markets as they grow to meet the expansion demands of new communication technology and renewable energy generation.
The Obelisk Group has developed an enviable reputation for quality delivery and is strongly positioned to demonstrate its abilities in each market:
Ireland
Investment in mobile 4G infrastructure upgrade;
Rollout of fibre broadband in Ireland;
Renewable energy investment and rapid development in Irish electricity transmission infrastructure.
UK
4G and telecommunications sector consolidation (a key growth driver);
Rollout of fibre broadband in the UK;
Rapid increase in renewable energy and solar farm investment and related electrical transmission infrastructure.
South Africa
4G and telecommunications infrastructure rollout
Rapid increase in renewable energy investment.
Announcing the Fund's investment in the Obelisk Group, Investment Director of The BDO Development Capital Fund, Andrew Bourg, said:
"The Obelisk Group is a great example of the sort of best-in-class Irish companies that Development Capital looks to support. It has grown, profitably over a 20 year period and has built a strong reputation and team in a range of complementary markets. It is now poised for exceptional growth with strong macro-economic conditions and positive investment climates in large markets outside of Ireland. We are delighted to be backing the Obelisk team and look forward to assisting them to at least double Obelisk in size over the next 5 years."
Obelisk Group, Chief Executive, Declan O'Neill said:
"We welcome the investment from Development Capital who share our vision to build Obelisk into a world-class engineering business that will become a strong brand in our sectors representing quality and delivery. The global markets for telecommunications and power infrastructure are set for exponential growth and we believe Obelisk has the expertise and experience, coupled with lots of hard work and commitment, to capture a significant part of this growth. We are looking forward to working with Development Capital to show how Irish entrepreneurs can compete and succeed on the world stage."
The BDO Development Capital Fund forms part of the Government's Development Capital Scheme, an initiative under the Action Plan for Jobs through which a total of €225million is being made available to mid-sized Irish companies with significant growth potential. As part of this Scheme, €75million in funds from the Department of Jobs through Enterprise Ireland will be matched with €150million of private sector funding for investments in Irish companies through a series of different funds.
Julie Sinnamon, Enterprise Ireland CEO, said:
"In an increasingly digital society, the Obelisk Group is a great example of an Irish company using its telecommunications and renewable energy expertise to meet customer demands and drive exports to international markets. This investment demonstrates how the Development Capital Funds can be used to fund ambitious management teams and help them reach their growth potential. Obelisk has the reputation and ability to deliver key communications and utilities infrastructures on a global level; I wish them continued success in building market share and supporting the creation of new jobs in Ireland".
For reference:
For BDO Development Capital Fund & The Obelisk Group:
Conor Dempsey, Dempsey Corporate
Tel: +353-(0)86-247 9892/ E-mail: conor.dempsey@dempseycorporate.com
For Enterprise Ireland: Press Office - +353-(0)1-727 2000