Partnership between BDO and DCU students results in smart AI application
Partnership between BDO and DCU students results in smart AI application
The collaboration is a result of DCU Alpha Lab, a partnership between Dublin City University and the Insight SFI Research Centre for Data Analytics and led by Prof. Stephen Daniels, which teams students with industry partners to tackle complex challenges faced by the companies.
BDO in Ireland challenged Zahraa Waadjassim, Hasnain Cheema and Pranay Tikoo to develop an application that can replicate the human ability to interpret complex data to deliver an easy-to-understand output. The unique aspect of the application means that it has the capability to become smarter with the increasing amount of data it interprets over time. The winning students were presented with their award earlier today by DCU Student Union's Bobbie Hickey and Chris Nugent, Head of innovation at BDO in Ireland.
Chris Nugent commented: "BDO was delighted to partner with DCU-Alpha Lab in our research to solve a complex client data problem. The engagement had a clear objective defined from the outset - to successfully deliver a more efficient data solution.
The BDO/DCU team worked very well together, with a focus on value-add to our firm and to DCU's Master students. It was a great example of "design thinking" and the need to continuously pivot and ideate. I am glad to say we had a positive outcome to our complex data issue and have taken the application onto the next level, for adoption and real-world use in BDO.
Our DCU colleagues made the overall engagement process simple, practical and outcome focused. BDO extends its thanks to DCU-Alpha Lab and the team of engineers."
DCU Alpha Lab engages with companies to explore innovative business practices, develop ambitious new strands of development and trial more efficient internal processes. The Alpha Award contributes to learning at DCU, encourages cross faculty collaboration whilst providing opportunities for career pathways for students.
Speaking about the partnership, Dr Hilary Murray, Research and Communications Coordinator at Insight SFI Research Centre for Data Analytics, said:
"The Alpha Lab provides ambitious on the ground innovation learning for students. Due to the multidisciplinary nature of each DCU team, Alpha Lab can uniquely devise innovative ways to deal with complex issues through a range of skills.
We are delighted to be partnering with BDO Ireland on one of our 2021 challenges. The DCU student team selected for this project were highly skilled and worked well with the team at BDO. We believe they have provided a workable solution for BDO and I am looking forward to seeing their careers progress in the field of innovation."
Alpha Lab has engaged with a significant number of top tier companies to date, with more innovation challenges planned for the 2021/22 term at DCU. Should your business wish to engage students in a challenge please contact stephen.daniels@dcu.ie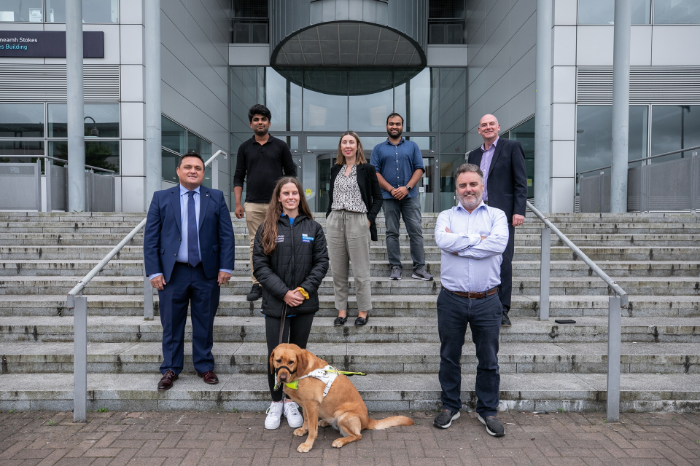 Pictured are DCU students Hasnain Cheema and Pranay Tikoo with Chris Nugent, Head of Innovation BDO Ireland; Professor Stehpen Daniels, DCU School of Electronic Engineering; Prof Noel O'Connor, CEO of Insight SFI Research Centre for Data Analytics; Dr Hilary Murray, Research and Communications Coordinator at Insight SFI Research Centre for Data Analytics; and Bobbie Hickey, DCUSU.